Welcome to the SoCal Pool Tables Blog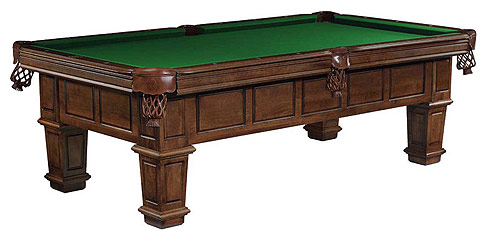 At SoCal Pool Tables, we offer the most beautiful, professionally installed pool tables at the lowest prices you can get. All our pool tables are made from top quality slate, championship 21 oz. felt in the color of your choice, and come with free delivery and setup, as well as a free accessory kit. When it comes to installing pool tables, precision and perfection are our specialty.
We also offer other dartboards, poker tables, and other pool and game room accessories.
Here at our blog, we'll keep you updated about our company, our products, and the world of pool at large. Check back often for the latest news.
3 Things You Should Never Do At Your Pool Tables


Pool tables aren't that cheap. And now that you've dropped some serious money on getting one for your home, there is one important thing that you need to do, and that is learning how to properly take care of it. Luckily, pool tables are created for a low-maintenance lifetime of fun, so once they are installed; you do not need to do much. However, there are a few precautions that you can take to ensure that you are able to enjoy yours for a long time.
Read More
3 Must-Follow Snooker Table Maintenance Tips


A well-maintained pool table not only last for one but several generations. Though snooker tables are constructed from strong wood and materials, you must always protect your pool table - including surface, pockets, and rails - from possible damages. 
Read More
5 Benefits Of Owning A Convertible Dining Pool Table


Nowadays, people invest in lots of exciting things to uplift the aesthetics of their living space. They prefer buying trendy stuff, like a convertible pool table for dining room ,that is both attractive and interesting.t's not a new fact that pool tables are immensely popular because of multiple health benefits that incredibly impact the entire family.
Read More
4 Reasons Why Owning a Pool Table is Awesome


When it comes to purchasing furniture pieces, homeowners have to make tough calls. Choosing just the right sofa set, side tables, bed frames and more from the pool of available options is not an easy task after all. It requires a lot of patience and is obviously time-consuming.
Read More
Choose the Right Wand: 3 Things to Consider When Buying a Cue Stick


So you're popularly known as a wizard of the pool game. But don't you feel something essential is missing without your cue stick? After all, how long a wizard is going to use a common, shared wand to showcase his magical pool playing powers.
Read More
How to Pick the Right-Sized Pool Table for Your Home


No matter if you have a swanky game area that needs a revamp or are simply looking to make your family get-togethers more exciting, it goes without saying that a pool table is a great investment. Billiards or pool is one of the most popular and fun games that transcend cultural barriers and age differences.
Read More
Planning To Move Your Pool Table? Here Are 4 Things You Must Do


A pool table is one of the heaviest items you can own, with some weighing up to 1,000 pounds. So moving them from one place to another is no walk in the park. If you have plans to pack up your pool table and move it to your new house, it is crucial that you are well-prepared and also have extra help. While hiring professional movers is the best option, it is understandable that not everyone can afford that.
Read More
Make Your Game Nights Interesting With These 4 Unique Pool Table Games


We are all familiar with the standard 8-ball and 9-ball. The traditional pool games are surely fun and well-loved, but the truth be told, they can get a little boring sometimes. And that's when you know that it is time to try out something new and interesting. There is a host of exciting pool games that you can play with family or friends. They are not only enjoyable but also great for enhancing your skills and keeping things interesting.
Read More
4 Must Have Pool Table Accessories and Equipment


So, you have a pool table in your game room. But do you have everything else? What about all the other important accessories that will help you bring your A-game to the table? Well, don't worry. We have you covered. We have compiled a list of essential pool table accessories and equipment that are required for an entertaining and exciting evening of pool with your friends....
Read More
A Short Guide to Slate Pool Tables


So you have determined what size pool table you want. Next comes the initial research; this will be different for every person. We don't all want the same thing. There are many different types, sizes, and styles of pool tables, not to mention brands. A very popular size is the 7ft pool table for sale, which is used extensively in pool parlors...
Read More
Top 6 Pool Players of all Time


The game of pool is one of the most stylish and sophisticated indoor games in the world. The world's best pool player sees shots no one else can. Here is a list of the Top 6 Pool Players of All Time....
Read More
The Origin of Darts


The game of Darts has become an essential component of many a man cave, game room, or English pub. But the simple game of darts, innocuous as it may seem; has a long history spanning more than a hundred years. Though no accurate records of its origin exist, it can be considered a fact that it originated in England. How exactly this game came into being is more of a mystery. Some accounts assert that King Henry VIII wanted his...
Read More
How to Play Bumper Pool


Bumper Pool is a variant of Pool that was developed to allow people to play the game on a smaller table, and for much smaller houses and spaces. It is a 2-player game that uses sticks or "cues" which are roughly half the length of a regular pool cue, and features a multi-sided table with obstacles called "bumpers" to make the game more challenging...
Read More
The Basic types of Pool Cues


So you fancy yourself as some sort of pool shark, a master of the cues? Well; master, have you ever wondered why there are different kinds of pool cues: why some cues are thinner, and why some cues are thicker? Well; here at So Cal Pool Tables, we fancy ourselves as pool meisters who know a little something about the game, so allow us to shed some light on...
Read More
Caring for your Poker Table


Investing in a piece of furniture is always a good idea: each piece you buy adds a facet of your unique style to your home, and of course, the furniture you invest in is meant to serve a function: whether it be used for storing items in, dining on, sitting in, or as a decorative item. Gaming tables are a type of furniture that not only add an element of fun to...
Read More

Cleaning and Protecting Your Pool Table


At So Cal Pool Tables, we understand that your pool table is an investment in future entertainment. It doesn't matter if you're a casual player or a competitive professional, your pool table is a valuable centerpiece to any game room or lounge. That's why we want to help you keep your table in pristine condition for as long as possible by keeping the wood, the felt, and the leather pockets spotless and stain-free. We talked about keeping the felt clean in a previous blog, so here are some tips to help keep other parts of your pool table clean and ready for use...
Read More

Upcoming 2018 APA Pool Tournaments


Looking to learn from the best in pool? Why not watch some tournament action? We've got some exciting games coming up this Spring and Summer! The APA, or the American Poolplayers Association, is holding their annual APA Poolplayer Championships this year at the Westgate Resort & Casino. This exciting event combines the APA 8-Ball Classic on April 25-27, 2018 and the APA 9-Ball Shootout April 27-29, 2018. Then, the APA is holding the APA Junior Championships on July 5-8, 2018 at the Renaissance Airport Hotel in St. Louis, Missouri...
Read More

Two Common Rulesets of Shuffleboard


Shuffleboard is a sport that originated as far back as 15th century England, where both young and old slid silver coins across tables in order to score points. Table shuffleboard crossed over to the American continent in the 17th century and only grew in fame as the decades passed. By the start of the 20th century, table shuffleboard was played in highly publicized tournaments on the East Coast and enjoyed by thousands of people across the country. Here are just a few of the rulesets you can play with a shuffleboard table of your very own from So Cal Pool Tables...
Read More

Four Popular Varities of Poker


It's poker night with family and friends: what are you going to play tonight? With help from So Cal Pool Tables, you've got the perfect 8-person poker table to play on. Fortunately, there are nearly as many varieties of poker as there are ways to gamble, so finding something that everyone in your group can learn quickly isn't hard. Here are a few of our favorite versions of poker and how you can pick them up and master them in no time...
Read More

The "Art" Behind Artistic Pool


No matter your skills, So Cal Pool Tables are designed for strength, beauty, and durability, letting even beginners master the sport of billiards. But once you get to a certain level of proficiency behind a cue ball, it's time to wow your friends and family with one of the most entertaining ways to play pool: trick shots, or what the professionals call artistic pool. Began in the 1970s and inspired by artistic billiards, the World Trick Shot Artists Association is always looking for fresh talent all over the world...
Read More

Playing Pool vs. Snooker


Here at So Cal Pool Tables, one thing we love about the sport are all the many different variations you can play on a single table. Two of the most popular version of pool you can play on our world-class six-pocketed pool tables is traditional pool (or billiards) and snooker. Each have slight variations in play, and even the base game has variations played all over the world. Here are some of the differences in the rules of pool and snooker so you can choose the game you play...
Read More

Don't Fall Prey to A Shark Attack


If you play pool on a regular basis, odds are that you'll eventually encounter the dreaded pool shark. I'm not talking about the great players who lurk in the deep, waiting to emerge victorious. I'm referring to the players who will get in your head, attempting to sabotage your game. Although their tactics aren't explicitly against the rules, they are generally frowned upon and considered a form of cheating. Here are the common habits used by dirty players in attempt to derail your game...
Read More
A Brief History of Billiards


The exact origin of billiards is unknown, but most sources trace the game back to 15th century France where the game was played outdoors in a manner similar to croquet. Sometime in the 1500s, the sport was moved indoors and French nobility began to install billiards tables, with green cloth to represent grass, within their residences...
Read More
How To Care For Pool Table Felt


A pool table is an investment on many levels. It's supposed to set a certain tone and bring a particular look to a room, and it's supposed to provide entertainment throughout its lifetime, which ideally will be many years. But in order to last that long, your pool table needs proper care, and perhaps none is more important than how you care for your felt. Here are some tips from your friends at So Cal Pool Tables to make sure you get the most out of your felt...
Read More